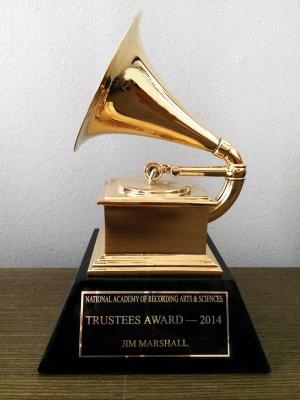 In January 2014, Jim Marshall was posthumously honored with the Trustees Award from The Recording Academy, a Special Merit Award that honors contributions to music in areas other than performance. This is the music industry's highest. Accepting the award was Jim Marshall's sole beneficiary, Amelia Davis, who is also the owner and founder of Jim Marshall Photography LLC. 
A special invitation-only ceremony was held on Saturday, Jan. 25, during Grammy Week, and formal acknowledgment was made during the 56th Annual GRAMMY Awards®  at STAPLES Center in Los Angeles on Sunday, Jan. 26, 2014, and broadcast live at 8 p.m. ET/PT on the CBS Television Network.
Read more about the honor: Legendary Photographer Jim Marshall to Receive Trustees Award.