Tuesday, September 6, 2016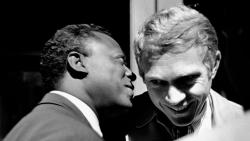 Jazz Festival: Jim Marshall is a lavish new book celebrating the legendary rock photographer's early work at the Newport and Monterey Jazz Festivals of the 1960s. Some 600 black-and-white images, most previously unseen, capture not only the musical icons of the time, but the freedom, excitement and intimacy of the events, whose integrated crowds led the way for the civil rights movement. ALLAN CAMPBELL introduces a selection of Marshall's best shots.
Jimi Hendrix setting fire to his guitar at Monterey. Johnny Cash flipping the bird at San Quentin. An out-of-it Janis Joplin backstage at the Winterland. Just a handful of the classic shots which made the late Jim Marshall the pre-eminent photographer of the rock era. No question.