Wednesday, September 7, 2016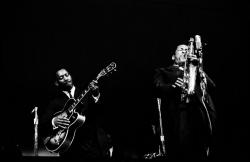 Written by Jacob Brookman
Jim Marshall's photos of 60s jazz festivals capture the many greats of the 'first uniquely American art form'.
A new release celebrates the work of Grammy-award winning 'father of music photography', Jim Marshall as he documented American jazz festivals during the 1960s. Featuring icons such as Miles Davis, Dizzy Gillespie and Nina Simone, the collection includes a variety of previously unseen images in a dynamic exploration of these revolutionary and unique musical happenings.
Jim Marshall managed to get the kind of access most photographers can only dream about. He was present at The Beatles' final paid live show at Candlestick Park, for Jimi Hendrix's flaming guitar antics in Monterey and – perhaps most difficult of all – on site for the live recording of Johnny Cash at San Quentin Prison.
A professional of finely-tuned opportunism and singular ambition, Rolling Stone's obituary in 2010 quoted him as saying 'I have no kids […] My photographs are my children.'
A new book compiled by Graham Marsh focuses on Marshall's work at Newport (Rhode Island), and Monterey (California) jazz festivals between 1960-66, with an astounding array of musical luminaries featuring alongside stars of stage and screen. The collection is the first in a series of volumes from Marshall's archive, and demonstrates the photographer's rare talent for handling composition, exposure and depth of field.