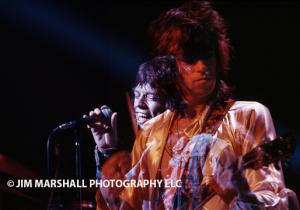 EXPERIENCE MUSIC PROJECT (EMP) in Seattle, Summer 2012.
The first solo museum exhibition of Jim's work opened at Experience Music Project (EMP) in Seattle on July 14, 2012.
Coinciding with the release of "The Rolling Stones 1972" by Jim Marshall (Chronicle Books 2012) and the 50th anniversary of the band, the exhibit features 45 Rolling Stones photographs and marries an array of rare photographs produced during Jim's lifetime, along with prints used for magazine art and proofs. It also included estate-produced prints from the book that inspired this exhibit. Documenting moments from the recording studio to the stage, Marshall's powerful photographs capture the camaraderie, essence and energy that make the Rolling Stones an internationally beloved band. The show ran for six months. Check out the museum's website at http://www.empsfm.org/at-the-museum/current-exhibits/the-rolling-stones...."  for more details.