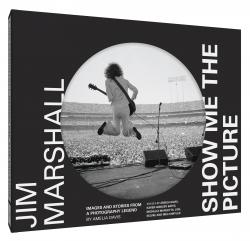 By MIchael Molenda
guardiansofguitar.com
A Legend Lovingly Remembered…
Chronicle Books is set to release a masterful tribute to photographer Jim Marshall (1936-2010) on August 30, 2019.
Entitled Jim Marshall: Show Me the Picture, the collection of Jim's exquisite, vibey, joyful, and sometimes tear-inducing photos was put together by his long-time personal assistant Amelia Davis. Her professional and personal relationship to Jim was such that he left her his entire estate—pretty much entrusting her to carry on his legacy—and Amelia now owns and runs Jim Marshall Photography LLC.
Such deep access to Jim's life's work made it possible for Amelia to include more than 70 images that have never been seen before amongst the 200+ photos included in this volume. While many fans know of Jim from his brilliant photos of '60s and '70s rockers, he was far more than a rock photog, and this career-spanning anthology should surprise and delight readers with its expansive portraiture of jazz icons, political and civil rights events, coal miners, denizens of Times Square, and other subjects.