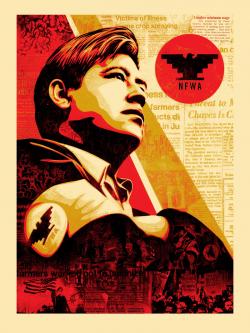 Jim Marshall iconic photo of Cesar Chavez as interpreted by acclaimed artist Shepard Fairey in "Workers' Rights" is the first of 5 pieces from to be featured in Huffington Post's "If This Art Could Vote" - a collection of political art! Check out ifthisartcouldvote.huffingtonpost.com.
Debuting this summer, American Civics is the first-ever collaboration between acclaimed contemporary artist Shepard Fairey and the estate of legendary photographer Jim Marshall. In it, Fairey interprets Marshall's iconic photography from the 1960s, including images of Johnny Cash, Cesar Chavez, and Fannie Lee Chaney, with five new works, vividly depicting the humanity behind some of our country's enduring social justice issues: Voting Rights, Mass Incarceration, Workers' Rights, Gun Culture, and Two Americas.
The artwork will be on display to the public at the San Francisco Art Exchange (458 Geary St., San Francisco, CA 94102) from August 13 through September.
The San Francisco Art Exchange is the only gallery authorized to sell the portfolios and individual prints. Please contact San Francisco Art Exchange sales@sfae.com or call 415-441-8840.
For more information on American Civics, please visit: http://americancivics.com/.
Media Contact:
Michael Jensen and Erin Cook
Jensen Communications
626.585.9575
erin@jensencom.com