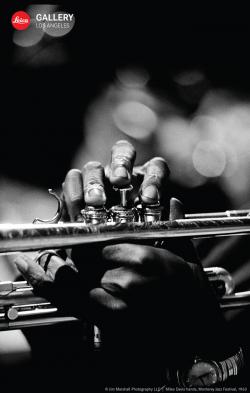 Event Date:
Thursday, June 15, 2017 - 6:00pm
to
Friday, June 16, 2017 - 7:45pm
Leica Gallery
Los Angeles
PRESENTS
JAZZ FESTIVAL
JIM MARSHALL
 
OPENING RECEPTION: THURSDAY, JUNE 15, 2017, 6PM - 8PM 
NON TRANSFERABLE INVITATION RSVP HERE
EXHIBIT DURATION: JUNE 15 - JULY 31, 2017
GUEST LECTURE and BOOK SIGNING: THURSDAY, JUNE 15, 2017, 5PM - 6PM
Featuring AMELIA DAVIS (sole owner of Jim Marshall's archive of photography) 
NON TRANSFERABLE INVITATION RSVP HERE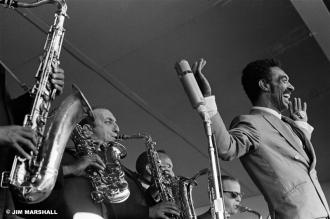 Jim Marshall (1936-2010) has been called the most celebrated and prolific photographer of the twentieth century. During the extraordinary rise of popular culture and counterculture in the 1960s, Marshall seemed to be everywhere that mattered. His images of Jimi Hendrix, Janis Joplin, Otis Redding, Brian Jones and Johnny Cash, amongst many more, are woven into the lore of the era. Because Jim lived life alongside his subjects and never betrayed their trust, he was granted second-to-none access. Marshall saw himself as an anthropologist and a journalist, visually recording the changing times and explosion of creativity and celebrity of the 1960s and 1970s. He immersed himself in that world more than any other photographer and, in doing so, emerged an icon for a new generation of music, art, and photography lovers. His images employed a minimum of artifice to document people and events. Not interested in conventional beauty or technical perfection, Marshall sought to capture character: the simple truth of whom a person is. His photo essays on civil rights and political unrest are a testament to his concern for the human condition. In a career that ended with his untimely death in 2010, Marshall shot more than 500 album covers; his photographs are in private and museum collections around the world. Posthumously, Marshall holds the distinction of being the first and only photographer to be presented with the Recording Academy's Trustee Award, an honorary Grammy presented to individuals for nonperformance contributions to the music industry. The award was bestowed on the Jim Marshall estate in 2014 in recognition of Marshall's unprecedented chronicling of music history from the 1950s through the early 2000s, and we will have Jim Marshall's Grammy award on display for the duration of the opening reception.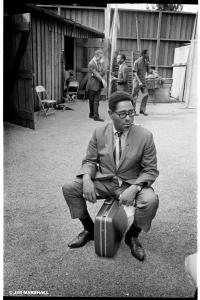 Marshall's earliest music photos were taken in the jazz clubs he loved and frequented and during the 1960s he photographed the Newport and Monterey Jazz Festivals. Newport and Monterey were the first popular music festivals, taking place during one of the most important moments in the annuls of jazz. With his inimitable eye, Marshall captured the freedom, the excitement and the intimacy of these joyful celebrations of jazz. Effortlessly cool, Marshall immortalized not only the thrill of the performers and their private, unguarded moments but the unique atmosphere and sense of lightness and openness among the crowd; old and young, black and white. These extraordinary images reflect Jim Marshall's unique talent and lifelong desire to "capture the perfect moment."
Jim Marshall and Leica Camera are synonymous. Jim bought his first Leica in 1959 for $50 down and twelve $24 monthly payments. This was the beginning of his fascination with Leica cameras, which led to his collection of twenty different Leica M bodies along with thirty or more Leica lenses with Leicavits modified to fit all of his Leica M bodies. Jim used his beloved Leica cameras up until his death in 2010. Before Jim walked out his front door, he always reached for a Leica to put on his shoulder. It was a ritual he performed every day of his life. Every iconic photograph Jim took was captured with his Leica camera. As Jim once said, "it's never been just a job it's been my life."
All photographs are taken from a new book chronicling Marshall's jazz festival photography, Jim Marshall: Jazz Festival, published by Reel Art Press.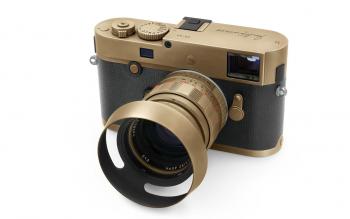 To celebrate the Exhibition and New Book, Leica Camera is also pleased to annnounce a limited edition Leica M Monochrom (Typ 246) Set in homage to Jim Marshall, the first and only photographer to be honored with Grammy's Trustee Award. There will be only 50 "Jim Marshall Sets" worldwide, which include the new brass plated Leica M Monochrom with a special "Laiton" finish and an inscription of Jim Marshall's autograph, as well as a Summilux-M 50mm f/1.4 ASPH. lens, a Jim Marshall Limited Edition Estate print of "Thelonious Monk at the Monterey Jazz Festival 1964" and a special, numbered edition and estate embossed copy of the book Jim Marshall: Jazz Festival.