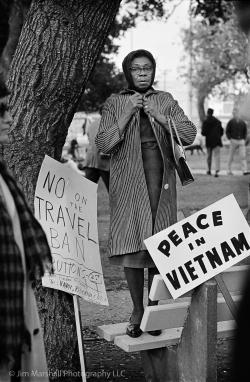 Event Date:
Thursday, June 28, 2018 - 6:00pm
to
Friday, June 29, 2018 - 8:45pm

Leica Gallery
Los Angeles
PRESENTS 'PEACE'
OPENING RECEPTION: THURSDAY, JUNE 28, 2018, 6PM – 9PM
RSVP HERE 
Jim Marshall's unseen "peace" photographs, collated and published here for the first time are a timely document for our world today. Sixty years after the creation of the CND peace symbol, this body of work is a beautiful and thoughtful reflection from one of the most celebrated photographers of the twentieth century. Renowned street artist and graphic designer Shepard Fairey provides the book's foreword. Afterword by Joan Baez and text by Peter Doggett.
Marshall saw himself as an anthropologist and a journalist, visually recording the changing times and explosion of creativity and celebrity in the 1960s. He loved street photography, and in between official assignments, started documenting the CND peace symbol and peace rallies as a personal project. He tabled these images on an index card in his archives labeled "Peace," where they remained until now.