Exhibit Date(s):
Thursday, January 26, 2017
to
Friday, June 23, 2017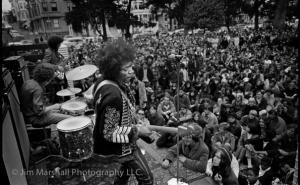 The San Francisco Arts Commission Galleries presents Jim Marshall's 1967, part of a citywide celebration of the 50th anniversary of the Summer of Love. The exhibition features a trove of photographs taken by Marshall that capture the vitality of the neighborhood and the multiple scenes and movements that called the Haight and San Francisco their home. The exhibit features a selection of 80 images from the thousands Marshall took in one fast-paced calendar year. Presented in chronological order, visitors can follow the artist as he shoots album covers for Jefferson Airplane, cavorts at home with Janis Joplin, shoots in the middle of a mass of Hell's Angels and gets impossibly close onstage with Jimi Hendrix. Marshall was dearly loved and respected by musicians of all genres. He spent his life documenting jazz, folk and then rock and roll, and was living and working in San Francisco when California bands like Moby Grape, Buffalo Springfield, The Charlatans, Jefferson Airplane and the Grateful Dead were at the forefront of solidifying a cultural movement that had its heyday in 1967.