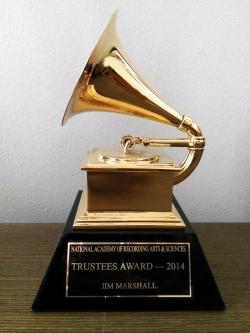 Event Date:
Friday, January 24, 2014 - 12:00am
to
Sunday, February 2, 2014 - 11:45pm
LEGENDARY PHOTOGRAPHER JIM MARSHALL TO RECEIVE TRUSTEES AWARD, THE RECORDING ACADEMY'S HIGHEST HONOR, FOR HIS CONTRIBUTION TO CHRONICLING MUSIC HISTORY
West Hollywood's Leica Gallery to present exclusive limited-engagement show: "55 Years of GRAMMY-AWARD WINNERS Through the Lens of Jim Marshall, beginning January 23.
San Francisco, CA—The estate of legendary photographer Jim Marshall announced two January events: Marshall is being posthumously awarded the Trustees Award from The Recording Academy, a Special Merit Award that honors contributions to music in areas other than performance, and an exhibit of his photography opens in the Leica Gallery.
Marshall will be given the music industry's highest accolade in the company of his peers, having photographed the Beatles, the Isley Brothers and Kris Kristofferson at early stages in their careers, who will also be accepting awards. A special invitation-only ceremony will be held on Saturday, Jan. 25, during Grammy Week, and formal acknowledgment will be during the 56th Annual GRAMMY Awards®  at STAPLES Center in Los Angeles on Sunday, Jan. 26, 2014, and broadcast live at 8 p.m. ET/PT on the CBS Television Network.
"Jim's photographs, his children, remain indelible memories of the music from a timeless era, and we are so honored that the highest recognition in the music industry is being given to him," said Amelia Davis, manager of Jim Marshall Photography LLC and the sole recipient of Marshall's estate.
During extraordinary times for popular music, Jim Marshall was everywhere that mattered—in the Village in New York City with Bob Dylan, at sound check with Hendrix at Monterey Pop, greeting the sunrise at Woodstock with The Who,and probably flipping the bird right back at Johnny Cash once he caught the moment at San Quentin. The list goes on, beginning in the late 1950s, and ending only when he died in 2010.
"Jim always attributed his ability to capture the authentic, vulnerable and insane moments of the musicians he photographed to the unencumbered access he had with them," says Davis. "He was able to spend time with them on planes, backstage and anywhere else he could manage without time limitations and legions of other people telling him what, where and how many minutes to shoot. That and the pureness that came from the lenses of his beloved Leica cameras."
It was this access and keen instinct to be in the right place at the right time that gives Marshall the rare distinction of having shot a photograph of at least one Grammy awardee for each of the 55 years since the Grammys began. The public will be able to view a newly curated collection, "55 Years of GRAMMY AWARD-WINNERS Through the Lens of Jim Marshall," in an exclusive and limited engagement at the Leica Gallery in West Hollywood (Leica was his camera of choice). The show will be on display from January 24 – February 2, with a VIP invitation-only opening night reception on Thursday, January 23 from 6pm–10pm featuring the ultra-premium Jack Daniel's and the music of Dale Watson.
The artists in the 55 Years of GRAMMY AWARD WINNERS through the lens of Jim Marshall include the following:
1958 Count Basie, 1959 Duke Ellington, 1960 Ray Charles, 1961 Stan Kenton, 1962 Tony Bennett, 1963 Peter, Paul & Mary, 1964 Louis Armstrong, 1965 Miriam Makeba, 1966 John Lennon & Paul McCartney, 1967 Aretha Franklin, 1968 Simon & Garfunkel, 1969 Johnny Cash and Joni Mitchell, 1970 BB King, 1971 Carole King, 1972 Muddy Waters, 1973 Stevie Wonder, 1974 Oscar Peterson, 1975 Dizzy Gillespie, 1976 Boz Saggs, 1977 Stevie Nicks, 1978 Quincy Jones, 1979 Doobie Brothers 1980 Billy Joel, 1981 John Coltrane, 1982 Willie Nelson, 1983 Michael Jackson, 1984 Elisabeth Cotton, 1985 Wynton Marsalis, 1986 Elton John, 1987 Bruce Springsteen, 1988 Gil Evans, 1989 Bonnie Raitt, 1990 Eric Clapton, 1991 Buddy Guy, 1992 Miles Davis, 1993 Scott Wailand, 1994 Sheryl Crow, 1995 Frank Sinatra, 1996 George Harrison & Ringo Starr, 1997 John Lee Hooker, 1998 Jimmy Page, 1999 Cher, 2000 Shelby Lynne, 2001 Lenny Kravitz, 2002 John Mayer, 2003 June Carter Cash, 2004 Ben Harper, 2005 Sonny Rollins, 2006 Peter Frampton, 2007 Bob Dylan, 2008 Robert Plant, 2009 Booker T. Jones, 2010 Jeff Beck, 2011 Allman Brothers, 2012 Dr. John.