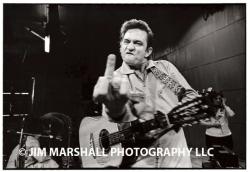 Event Date:
Thursday, July 23, 2015 - 12:00am
to
Saturday, September 26, 2015 - 11:45pm
In a not-to-be-missed experience, Leica Store San Francisco teams up with the estate of Jim Marshall to host an extensive gallery exhibition of Jim's work, including such gems as Johnny Cash flipping the bird during a San Quentin Prison show, Jimi Hendrix raising his fist during his appearance at the Monterey Pop Festival  and The Beatles at their last live concert, which took place at Candlestick Park.
Also on exhibit are photographs of the Rolling Stones (in the book "The Rolling Stones 1972"), images from the mid- to late-sixties documenting the counterculture revolution that arose in San Francisco's Haight District (and featured in the bestseller "The Haight: Love, Rock, and Revolution," available for purchase during the exhibit run), and Jim's "55 Years of Grammy Award Winners" series.
The Leica cameras with which Jim created what are now acknowledged as many of the greatest music photographs of all time are part of a display in the gallery of Jim's memorabilia that includes his 2014 Trustees Award from The Recording Academy, which he was posthumously awarded in recognition of his unprecedented chronicling of music history from the 1950s through the early 2000s.