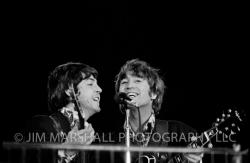 SAN FRANCISCO ART EXCHANGE OFFERS LIMITED-EDITION JIM MARSHALL ESTATE PRINTS OF THE BEATLES' LAST LIVE CONCERT AT CANDLESTICK PARK
Five intimate photographs of The Beatles are available to the public for the first time to commemorate Paul McCartney's August 14 Candlestick Park performance.
San Francisco, CA–On August 29, 1966, The Beatles emerged from an armored truck onto the infield of San Francisco's Candlestick Park to the deafening screams of thousands of fans. No one knew that it would be the last live Beatles performance together … ever.
A friend of the band, Jim Marshall was the only photographer allowed to take pictures of them at what became a historic event in music. Marshall's shots chronicled the Beatles from their arrival at SFO, the backstage vibe and their walking across the field to the stage to their performing onstage, which are now available to the public for the first time.
To commemorate the August 14th Paul McCartney concert at Candlestick Park, nearly 50 years after The Beatles' last gig at the same venue, San Francisco Art Exchange is offering a selection of five intimate, limited-edition 16x20 archival photos from the final concert. Printed from the original 35mm negatives shot by Marshall, only 25 of each image has been produced for sale individually or in a set of five.  
Additionally, coming this fall, photos of the Beatles have been included in a new book on Marshall's work "The Haight: Love, Rock and Revolution," due out October 14 (Insight Editions).  Written by best-selling author and San Francisco music journalist Joel Selvin, "The Haight" features hundreds of stunning photos taken by Marshall between 1965–1968 in the Haight–Ashbury, during what is widely regarded as the cradle of modern counterculture.
Stop by the San Francisco Art Exchange and take a look at these intimate portraits of one of the world's most iconic bands ever. For more information, contact San Francisco Art Exchange: 415-441-8840, info@sfae.com.