Thursday, October 12, 2017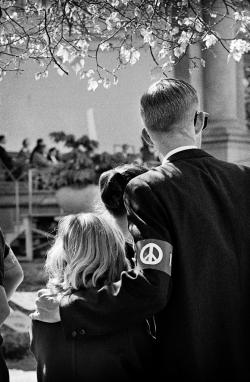 Event Date:
Friday, October 20, 2017 - 6:30pm
to
Saturday, October 21, 2017 - 7:45pm
We invite you to the first West Coast exhibition and book launch of PEACE, Jim Marshall's stunning black-and-white photographic studies of the peace sign, a symbol embraced by the counterculture movement, which remains relevant as the universal message of free speech, opposition to war, nuclear disarmament, and hope.
Opening Reception
Friday, October 20, from  6:30 to 8pm
With talk & book-signing by Jim Marshall Photography LLC owner Amelia Davis
RSVP Here
Place
San Francisco Art Exchange, 458 Geary Street, San Francisco, CA 94102
Jim Marshall, one of the most celebrated photographers of the twentieth century, has taken some of the most recognized images in the history of music photography. As a dedicated cultural observer and photojournalist, Jim also adored street photography, and pursued several personal projects in between official assignments.
One such project was documenting the evolution of the recently created CND peace symbol as it morphed from a specifically "No Nukes" context into a broader, more universal symbol that represented the key principles of the global countercultural movement of the 1960s. This simple design quickly became the universal symbol for peace, freedom, and equality for all people that it remains today. Over several years Jim quietly amassed a large number of these images and specifically tabled them in his archives on an index card scrawled with a peace symbol, where they remained unseen and unpublished until now.
These insightful and poignant photographs were recently compiled into a critically acclaimed new book, PEACE (Reel Art Press), which features a foreword by artist Shepard Fairey, text by music writer Peter Doggett, and an afterword by singer, peace-activist, and longtime friend of Jim Marshall, Joan Baez.
"Jim Marshall remained a faithful friend over the years. He also produced some of the finest photographs on record. The images seen here are as artful and powerful as his acclaimed photos of stars, musicians and festivals." -- Joan Baez
THE EXHIBIT
To celebrate the book release, the exhibition will feature a curated selection of Marshall's magnificent photographs along this theme. We will showcase thirteen of these new peace images, which have just been released as limited editions, along with several extremely rare signed photographs and previously released estate editions. In addition to the Marshall photographs, some of the American Civics series created by acclaimed street-artist Shepard Fairey, based on Jim's photographs, will also be displayed.
All of the artwork is available for sale and anyone who purchases any Marshall photograph during this exhibition will receive a copy of the new book and a custom-made peace sign necklace as a complimentary gift. (While supplies last!)
A PDF catalog of the PEACE photographs can be downloaded below.

PEACE CATALOG