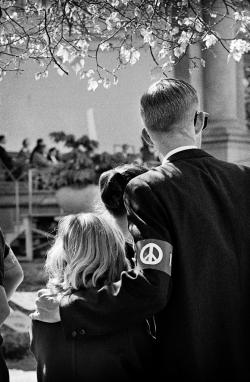 Event Date:
Wednesday, September 6, 2017 - 6:00pm
to
Thursday, September 7, 2017 - 7:45pm
We invite you to the exhibition and book launch of 'PEACE,' Jim Marshall's stunning black-and-white photographic studies of the peace sign, a symbol embraced by the counterculture movement, which remains relevant as the universal message of free speech, opposition to war, nuclear disarmament, and hope.
Private Reception
Wednesday, September 6, from  6 to 8pm
With talk & book-signing by Jim Marshall Photography LLC owner Amelia Davis
(RSVP Here)
Place
ACA Galleries, 529 West 20th Street, New York, NY 10011
Public Show
September 7 – 30
The exhibition celebrates the new book of Jim Marshall's work, "Peace (foreword by Shepard Fairey; text by Peter Doggett and afterword by Joan Baez), published by Reel Art Press. Believing himself fto be an anthropologist and a journalist, Marshall charted the life of a symbol, documenting how the peace sign transformed from an antinuclear message to the universal symbol for peace. His lens captured street graffiti in New York subway, buttons pinned to hippies and students, and West Coast peace rallies held by a generation who believed, for a brief moment, they could make a difference.
Also featured are a selection of Marshall's iconic images capturing the Summer of Love in San Francisco and a suite of prints by Shepherd Fairey enitlted 'American Civics,' which re-interprete five of Marshall's iconic photos, including Johnny Cash, Cesar Chavez, and Fannie Lee Chaney. The series depicts the humanity behind some of the country's enduring social issues: Voting Rights, Mass Incarceration, Workers' Rights, Gun Culture, and Two Americas.)
A portion of the exhibition sales will benefit The Creative Coalition.