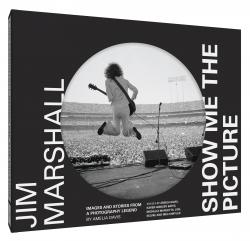 From B&W Magazine Issue 141, Mark Edward Harris reviews Jim Marshall: Show Me the Picture, which, he says, "should take center stage on a coffee table in the here and now."
Even if you think you know Jim Marshall and his work, it's likely you'll recall only some of his iconic music photos and, perhaps, an anecdote or two about his bad-boy behavior. But this latest book about Jim Marshall's photography shows his incredible depth of interest in ordinary people as well as timeless social issues. Accompanied by essays from friends and colleagues—those who knew him best—the result is a beautiful tome that takes a deep dive into Jim Marshall's world. If it graces your coffee table, it's unlikely it will just sit there to look pretty. With hundred of photos to pore over and insights into the Jim's life and times, it's a compelling read for the summer and beyond.
Check out the full book review here: 141-bw-book_reviews.pdf.
You can purchase the book at fine bookstores and online from amazon.com and Chronicle Books.