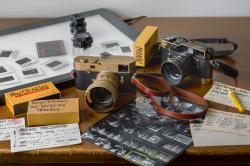 Fans of the late artist can now shoot with a camera that pays tribute to his artistry and era.
The late photographer Jim Marshall was a true iconoclast with a keen eye, a man who didn't suffer fools while chronicling the ego-filled world of rock and roll and jazz. Now, fabled German camera manufacturer Leica is paying tribute to his legacy with the Leica M Monochrom Limited Edition Jim Marshall Set.
Priced at $12,950 and limited to 50 examples, the set includes a custom brass-plated M Monochrom camera, a Jim Marshall estate print of pianist Thelonious Monk, and a special estate-embossed copy of Jim Marshall: Jazz Festival featuring many previously unseen images. Although Leica has offered more than a half-dozen special edition M cameras over the years, this is the first commemorating a celebrated photographer.