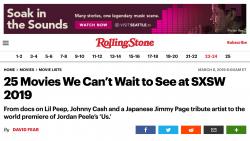 Rolling Stone magazine names 'SHOW ME THE PICTURE: THE STORY OF JIM MARSHALL' one of the 25 films to see at SXSW 2019.
Says Rolling Stone senior editor and critic David Fear: "Alfred George Bailey's portrait of the famed photographer reminds you that Marshall didn't just shoot some of the most iconic rock & roll pictures but chronicled the times he lived in. It also doesn't shy away from what a walking contradiction he was: a Haight Ashbury hippie with anger issues, a mercurial man who was equally fascinated with peace signs and firearms."
Read the full review at https://www.rollingstone.com/…/25-mo…/sword-of-trust-801790/.
Information about the venues and and showtimes of the documentary, which makes its world premiere at SXSW, is at http://bit.ly/SXSW-JimMarshallDocumentary.