Exhibit Date(s):
Thursday, September 8, 2016
to
Wednesday, May 31, 2017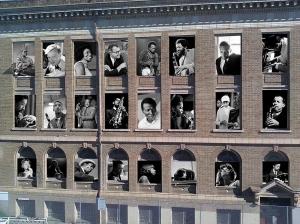 A free street exhibit of twenty-four photographs from Jim Marshall's new book, "Jazz Festival," in the windows of the vacant San Francisco Unified School District building, opposite the SF Jazz Center.
The images include those of Tony Williams, Joe Henderson, Dave Brubeck, Miles Davis, Mary Lou Williams, Sonny Rollins, John Coltrane, and Charles Lloyd.
This installation is the result of a partnership of the estate of Jim Marshall with the SJ Jazz Center and Reel Art Press (the publisher of "Jazz Festival" ).
"We cannot think of a better way to honor Jim Marshall than with the SFJAZZ Center's exhibit. Finally, he gets the recognition he deserves for his jazz photography. Jim is known for his iconic rock & roll photography, but very few people realize that Jim's first subjects were not Jimi Hendrix or Janis Joplin but jazz greats like John Coltrane and Miles Davis. Now they will! Stop, look up, and feel the music!" —Amelia Davis, Jim Marshall Estate owner and the book's co-editor: