Wednesday, August 15, 2012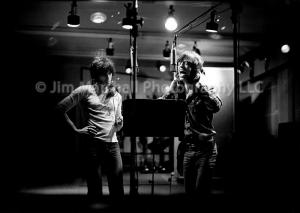 Summer 2012 GALLERY EXHIBIT in San Francisco.
The San Francisco Art Exchange (SFAE) hosted an exciting exhibit of Jim Marshall's Rolling Stones images, focusing on shots taken while Jim was on assignment for LIFE in 1972.
Demonstrating his trademark "All Access" style, Jim captured the group both in the studio, while they put the finishing touches on their landmark double album "Exile on Main Street," and onstage, with incredible performance shots during the West Coast leg of their blockbuster U.S. Tour that summer.
This event coincided with the publishing of a new book of Jim Marshall's photographs The Rolling Stones 1972 (Chronicle Books) and the group's 50th anniversary. Included were several iconic shots well known to Stones fans, alongside 12 new pieces that had never before been released. Collectors have the rare opportunity to acquire some of the very last remaining signed pieces, as well as the first print of each of the new editions.
As a special feature of this exhibit, SFAE had a collection of rare signed pieces of Jim's other iconic subjects from Jazz, Folk, Rock and Country music. These were among the last signed pieces available for sale. Check out SFAE's website for more information.