Exhibit Date(s):
Friday, March 10, 2017
to
Sunday, May 14, 2017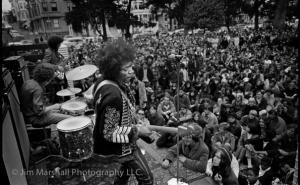 The GRAMMY Museum® will celebrate one of the most pivotal years in music — and the photographer who captured it — with a special limited showing of Jim Marshall's 1967. Organized by The San Francisco Arts Commission in conjunction with the 50th anniversary of San Francisco's Summer of Love, the exhibition will feature a selection of 60 images from the thousands Jim Marshall took while he documented history in the making.
Shown in chronological order, the exhibition, co-curated by SFAC Galleries Director Meg Shiffler and Amelia Davis of Jim Marshall Photography LLC, features a trove of photographs taken by Marshall that capture the vitality of the neighborhood and the multiple scenes and movements that called the Haight and San Francisco their home. Visitors can follow Marshall as he photographs some of the most important artists of 1967 — from the Grateful Dead's last concert in the Haight to an album cover for Jefferson Airplane and Jimi Hendrix's historic free concert in the Panhandle. Marshall was dearly loved and respected by musicians of all genres.