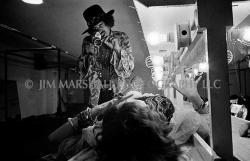 SXSW Press Release:
Alfred George Bailey's Documentary Follows Legendary US photographer Jim Marshall – SXSW Filmmaker In Focus
The 2019 SXSW Film Festival is almost upon us and we can't wait to have you here! Before you make your way down to Austin, TX, get to know films from our lineup a little bit better with our Filmmaker In Focus series. Dive into our Q&A with director Alfred George Bailey as he tells us about his film Show Me The Picture: The Story of Jim Marshall, which will World Premiere in 24 Beats Per Second.
In your own words, what does this film mean to you?
Alfred George Bailey: Jim Marshall has had and continues to have a significant influence on my photographic and cinematic life. From the very first time I saw his photograph of a man and his daughter at a peace rally I was stuck by his ability to place you in the moment; it looked sinister at first but it is such an arresting image. The sheer number of photographs he took, an estimated 1.2 million images, is so impressive, and that's just the black and white photographs! His voracious eye and the breadth and variety of the subjects – from rock, jazz, folk and documentary photography – is awe inspiring. He was also able to capture momentous historical events with an eye like no other, AND he was always miraculously in the right place at the right time! I too started out on my journey as a photographer with a Leica, and it was the cinematic quality in Marshall's work that led me to become a filmmaker.
What motivated you to tell this story?
AGB: When one sees Jim's images they are instantly recognizable, but the artist and man who created so many of these iconic photographs is relatively unknown. I want this multi-faceted documentary to change that, and for Marshall to be recognized as one of the great chroniclers of music, culture and twentieth century history.
What do you want the audience to take away?
AGB: Jim Marshall fought a myriad of demons in his personal life. He always felt the outsider, and struggled to belong. He was a walking paradox, immensely kind but was prone to angry outbursts, and perhaps because of this he was recognized and captured the best and the worst sides of humanity.
How did you find your subject?
AGB: I'm also a still photographer and the opportunity came to make the film through a chance meeting with the owner of the Jim Marshall estate, Amelia Davis.
What made you choose SXSW to showcase your film to the world?
AGB: The festival has a great reputation for music documentaries.
Add  Show Me the Picture: The Story of Jim Marshall to your SXSW Schedule. Stay tuned as we share more interviews with our SXSW 2019 filmmakers!