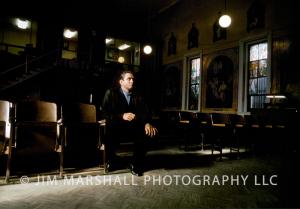 A selection of never-before-seen photographs of Johnny Cash from the final book developed with Jim Marshall, Pocket Cash (Chronicle Books, Fall 2010), were featured in exhibitions at JMP LLC's authorized galleries in San Francisco, New York and London.
The shows also marked the one-year anniversary of Marshall's passing on March 24, 2010.
In response to the success of Pocket Cash, Jim Marshall's final book developed before his death and to the interest expressed by so many of Johnny's and Jim's fans in owning prints of these images, the estate of Jim Marshall authorized limited-editions prints of 15 of the images in the book, all from Jim's negatives. These images had not previously been available as silver or color prints.
Only 5 of the 110 images of Cash and his family and friends included in Pocket Cash had ever been exhibited as prints. Each exhibition presented 12 to 19 prints in varying sizes, many of which are still available for purchase. These include prints of 4 iconic images published during Jim's lifetime. For the first time, the exhibitions presented for sale 15 limited-edition prints, which are authorized by Jim's estate and bear its stamp. All prints are made from Jim's original negatives; each edition is limited to 25 prints.