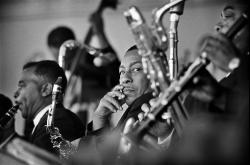 Event Date:
Sunday, October 30, 2016 - 2:00pm
to
Monday, October 31, 2016 - 1:45pm
Mark your calendar for Sunday, October 30. In Tales from the Golden Road on the Grateful Dead Channel of SiriusXM, Amelia Davis (award-winning photographer and owner of Jim Marshall Photography LLC), David Gans (musician, music journalist, and friend of Jim Marshall), and Gary Lambert (musician and editor/writer of the Grateful Dead's official newsletter) talk about Jim, jazz, jamming, and "Jazz Festival," Jim's new, acclaimed photojournal of '60s jazz greats.
Why "jamming"? The influences of jazz on rock music runs deep. For instance, the jam session, a jazz staple since the 1920s, has been utilized in performances by many rock bands, including Jefferson Airplane and the Grateful Dead.