Monday, September 26, 2016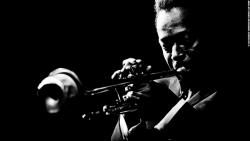 By John Blake, CNN
"Jazz is dead."
Jazz connoisseurs have been hearing that eulogy for at least half a century. They're a picky bunch, often complaining about the quality of contemporary jazz while pointing to some golden era when "real" jazz thrived.But if jazz did indeed die, what was the cause of death, and when did it pass away?
A new book, "Jazz Festival: Jim Marshall," offers some possible answers. It features a handsome collection of black-and-white photos of jazz icons playing for and mingling with the glamorous crowds at the Monterey Jazz Festival in the early 1960s. The photos were taken by the legendary music photographer Jim Marshall, who captured those final summers when jazz was still widely popular -- and when it started to lose its commercial appeal.
The intimacy of the photographs is palpable. There's one of saxophonist John Coltrane slumped alone on a bench backstage, staring off into space as if contemplating some cosmic mystery. There's another of trumpeter Miles Davis whispering something into the ear of Steve McQueen that draws a mischievous smile from the actor. And then there's a shot of the regal composer Duke Ellington urging on a soloist; the Duke seems so close you can almost smell the pomade in his wavy hair.
Marshall's photos also freeze-frame a scene -- the stylish, hip and racially integrated crowds that were as much a part of the festival as the performers themselves. This was an era before people routinely wore flip-flops and sagging jeans in public. The festivalgoers, with their lean builds, exquisite cheekbones and fancy shades, were as sharp as the music.