Wednesday, October 5, 2016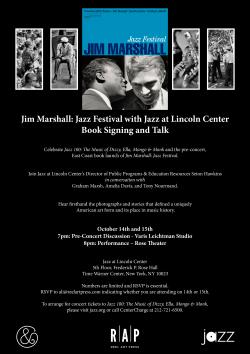 Event Dates:
Friday, October 14, 2016 - 7:00pm
Saturday, October 15, 2016 - 7:00pm
Book Signing and Talk
Celebrate Jazz 100: The Music of Dizzy, Ella, Mongo & Monk and the pre-concert, East Coast book launch of Jim Marshall: Jazz Festival.
Join Jazz at Lincoln Center's Director of Public Programs & Education Resources Seton Hawkins in conversation with Graham Marsh, Amelia Davis, and Tony Nourmand.
 Hear firsthand the photographs and stories that defined a uniquely American art form and its place in music history.
Jazz at Lincoln Center
5th Floor, Frederick P. Rose Hall
Time Warner Center, New York, NY 10023
Numbers are limited and RSVP is essential.
RSVP to ali@reelartpress.com indicating whether you are attending on 14th or 15th.
To arrange for concert tickets to Jazz 100: The Music of Dizzy, Ella, Mongo & Monk, please visit jazz.org or call CenterCharge at 212-721-6500.