Tuesday, October 14, 2014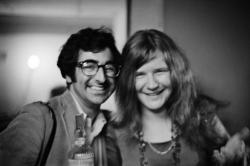 Event Date:
Saturday, October 18, 2014 - 7:00pm
to
Sunday, October 19, 2014 - 6:45pm
San Francisco, CA—The counterculture movement of the 1960s is one of the most continually fascinating and endlessly examined milestones of the twentieth century. Widely regarded as the cradle of the social revolution, the Haight grew from a small neighborhood in San Francisco to a worldwide phenomenon—a concept that extended far beyond the boundaries of the intersection itself. Nearly fifty years later, the footprint of that era still reverberates in today's music, fashion, politics, literature and design.
Legendary photographer Jim Marshall visually chronicled the movement as perhaps no one else did. Armed with his trusted Leica M4 camera and allowed unlimited access to his subjects, Jim Marshall had an intimate and distinct style that made him one of the most celebrated photographers in the world, earning him the Grammy Trustees Award for his lifework.
The Haight: Love, Rock, and Revolution (Insight Editions / $50.00 / October 2014) is a stunning collection of never-before-seen photographs of San Francisco in the 1960s that captures the essence of the era through Jim Marshall's lens. Written by best-selling author and longtime San Francisco Chronicle music journalist, Joel Selvin, The Haight shows the rise of the counterculture movement leading into the "Summer of Love" like it's never been seen before: live concerts, powerful candids, intimate portraits, street scenes, crash pads and more.
The Haight features hundreds of previously unseen photographs of artists and icons of the 1960s counterculture movement, including the Beatles, Bob Dylan, Jimi Hendrix, Janis Joplin, Grateful Dead and Jefferson Airplane, Bill Graham, Timothy Leary and Allen Ginsberg.
The Haight tells the complete and comprehensive story of the era through an intimate and revealing narrative, lending each and every image a fascinating context and perspective.
Complete with a foreword by Jorma Kaukonen of Jefferson Airplane, a preface by Donovan, and an afterword by former LOOK magazine editor John Poppy, The Haight is a bold and beautiful collection capturing the full scope and nuance of Marshall's San Francisco photography and offers fresh insight into the Summer of Love, Haight–Ashbury and beyond.
Please join us for a book signing with Jim Marshall Photography's Amelia Davis and book author Joel Selvin on Saturday, October 18, 201, at 7:00pm –9:00pm.  San Francisco Art Exchange, 458 Geary St., San Francisco, CA 94102, info@sfae.com. SF Supervisor Scott Wiener will  present a Proclamation of "Jim Marshall Day" to Amelia Davis, the owner of the vast photography archive of San Francisco legend and photographer Jim Marshall.