Submitted by

m3jimphoto

on Thu, 05/03/2012 - 10:06pm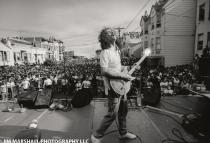 For the month of May we're going to focus on Jim's relationship, both in front of and behind the camera, with one of the San Francisco music scene's most enduring stars: Carlos Santana.
Throughout the highs and lows, thicks and thins of life with Jim, there can be no dispute that Carlos always stood by him; a great and loyal friend. I can speak to this directly because I saw it up close and personal.
At the time Jim came into my life (March, 1984) there were VERY few people in general -- and in the music business specifically -- who were interested in seeing Jim make a comeback. In fact, in the timeline of Jim's life featured on the Bio page of our official website we note that 1979-1986 were "The Lost Years."
I was lucky enough to meet Carlos during those "lost" times, and he was unfailingly polite and quite sweet actually, with not a drop of ego or pretense where Jim was concerned. I distinctly remember around Christmastime in 1984; it was a really bad time for Jim as he had no money, could barely make rent. The first time I met Carlos, he popped into Jim's 16th St. apartment to pick up a bunch of prints (I think various Coltrane shots if my memory serves). Carlos planned to give them out as Christmas presents. Jim made it clear to me that Carlos didn't have to do this, was in fact doing Jim a major favor and how grateful he was to him for it.
That cash kept Jim going through the holidays until he finally started to land some small gigs here and there and slowly crawled his way back into life as a working photographer. And, I guarantee you, it was not the first time Carlos "did him a solid," as Jim liked to say.
Here's a bit of a quick view of Santana, courtesy of his wiki page:
"Carlos Augusto Alves Santana (born July 20, 1947) is a Mexican and American rock guitarist. Santana became famous in the late 1960s and early 1970s with his band, Santana, which pioneered rock, salsa and jazz fusion. The band's sound featured his melodic, blues-based guitar lines set against Latin and African rhythms featuring percussion instruments such as timbales and congas not generally heard in rock music. Santana continued to work in these forms over the following decades. He experienced a resurgence of popularity and critical acclaim in the late 1990s. In 2003, Rolling Stone magazine listed Santana at number 15 on their list of the 100 Greatest Guitarists of All Time. He has won 10 Grammy Awards and 3 Latin Grammy Awards."
Stay tuned for much more complete coverage of Jim's work capturing the heart and soul of Carlos Santana in our next blog.