Submitted by

m3jimphoto

on Wed, 05/04/2011 - 7:46pm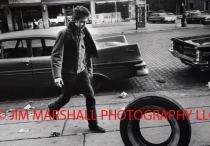 Bob Dylan is turning 70 on May 24 and it seems fitting to spend this month combing through the archives to share with you some of Jim's classic Dylan photos as well as Dylan shots that will be unveiled for the very first time here on this blog.
Inarguably, Jim's most famous Dylan shot is the one he called, "Dylan With Tire," seen here in all its enigmatic glory.  It's one of Jim's in-the-moment shots that I find especially compelling for many reasons.  I think it captures such an optimistic and ebullient and inspiring time in Dylan's life.  And also Jim's, come to think of it.
Hero Blues
"Dylan With Tire" is one of what Jim called his "hero shots," and it (plus the proofsheet or a vertical of the same moment) has been published in three of his books and included in nearly every article and interview that was ever done with Jim.  It's an image so iconic and mysteriously compelling that it became much bigger than itself from the moment it was first printed; people have been trying to imbue it with meaning since The Saturday Evening Post ran it more than four decades ago.
Here are a couple of captions with Jim's story of how this young moment was forever captured.  Published 12 years apart, note the difference in Jim's tone and mood from one recounting to the next:
From  2009's solo book "Trust" -- Jim definitely had his crankypants on the day he told this story to the editor:
"Bobby Dylan lived right around the corner from me in Greenwich Village and I hooked up with him around the neighborhood. The famous shot of him rolling the tire from 1963 happened when we were just going for breakfast one morning. There was me, Bobby, his girlfriend Suze, Dave Van Ronk and his wife Terri. The tire was in the fucking street, Bob picked it up, kicked it twice, end of fucking story, no big deal. Fuckers been reading into it for some meaning, the song was never going to be called 'Like A Rolling Tire!' There's a nut that even went through [Dylan's] garbage every day looking for meaning. The Saturday Evening Post ran it and it took on a life of its own."
And from "Not Fade Away," his first solo coffee table book published in 1997. A much more circumspect/cerebral rendition from Jim without the eff bombs:
"What did Churchill say about Russia? A riddle wrapped in a mystery inside an enigma? Well, Dylan is an enigma. This particular photo was taken one Sunday morning when Bobby, his girlfriend Suze Rotolo, Dave Van Ronk and Terri Van Ronk all were going to breakfast in New York.  Just two frames were shot – no big deal—but I feel it shows that Bob was still a kid in 1963.  Contrary to popular belief, this shot did not inspire the song 'Like a Rolling Stone.'  No one really knows where he was coming from, but he's one of the most brilliant songwriters of our time.  The last time I photographed him was in 1980."
Speaking of songwriting, I'm with Jim on the dumbness of thinking the shot's about "Like a Rolling Stone/Tire." Featuring something that rolls is just way too trite for the way Jim worked, even in the beginning stages of his career.  Anne Leibovitz with her love of props and studio shots perhaps but not Jim.  Nah, what it makes me think of is this classic song Dylan wrote a decade after he hung out with Jim and some friends, just heading to grab some grub on a sleepy Sunday morning in downtown NYC.
Forever Young
May God bless and keep you always
May your wishes all come true
May you always do for others
And let others do for you
May you build a ladder to the stars
And climb on every rung
May you stay forever young
Forever young, forever young
May you stay forever young
May you grow up to be righteous
May you grow up to be true
May you always know the truth
And see the lights surrounding you
May you always be courageous
Stand upright and be strong
May you stay forever young
Forever young, forever young
May you stay forever young
May your hands always be busy
May your feet always be swift
May you have a strong foundation
When the winds of changes shift
May your heart always be joyful
May your song always be sung
May you stay forever young
Forever young, forever young
May you stay forever young