Submitted by

m3jimphoto

on Thu, 11/08/2012 - 9:00pm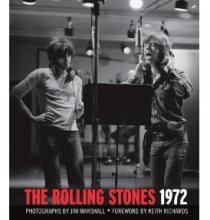 There is much news brewing in the world of Jim Marshall Photography for the rest of 2012 including most notably the upcoming "Rolling Stones 1972" exhibition at The O2's British Music Experience, Britain's groovy interactive museum of popular music housed in the O2 Bubble in Greenwich, London.
The show, curated by Team Marshall's own Dave Brolan, is being installed today and will run from November 12, 2012 to February 3, 2013.  This powerful show is devoted to images entirely from Jim Marshall's posthumous book, "The Rolling Stones 1972," which is now in its second printing.  The exhibition opening will be next Thursday, November 15.
Stay tuned for more in-depth coverage of the O2 exhibit, including a peek at the special Gibson Guitar vignette for you Keith Richards aficionados, as well as behind-the-scenes shots of the installation in next week's blog!