Submitted by

m3jimphoto

on Thu, 12/20/2012 - 8:09pm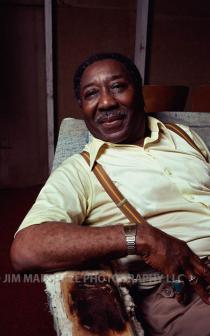 "I rambled all the time. I was just like that, like a rollin' stone." – Muddy Waters
Seeing as it is the height of gift-giving time has got me to musing a bit more on Jim's generosity and how that generosity continues to live on our walls, looking down on us, inspiring and reminding one and all to live in the moment 'cause as Jim never tired of telling me: You never know which one will be your last. Today's blog features a wonderfully bemused color portrait of Muddy Waters that Jim took in 1974.  It is another great example of Jim's spontaneous, urgent need to give the people he loved something he loved. I'm lucky enough to have a rather large version of this Muddy Waters print, a print that Jim gave to me on one of his regular trips to NYC in the late '90s. The shot is featured in his book of color imagery, "Trust." Here's a caption that ran with the shot. The sentiment is initimitable Jim, rather terse and just the facts and yet he also manages to make a truly salient point that most in the music publishing industry would still rather not hear. "Muddy Waters backstage of some club in a small town near Chicago. Columbia Records sent me there, Johnny Winters was producing a live album for him. I shot Muddy a lot before, he was a real gentleman and a very influential musician, probably got cheated out of millions over the years like a lot of blues guys." Every time I look at this framed portrait in its place of honor right above my beloved Dan's turntable (yeah, that's right, we still rock the vinyl from time to time just to keep things jumpin'), I get a little smile on my face, and I feel a little bit naughty and quite nice, just like Muddy would've wanted, I'll wager. And I get to replay the moment in my head when Jim gave me that print in his room at the Paramount hotel, ostensibly because he didn't want to schlep it home but really because he thought I needed to have it and knew that I would cherish it always. And he was right.
Speaking of replays …
It seems appropriate to re-run this blog, "Thanksgiving 1969 With the Cash Family", one of our more popular, from last year's holiday season in tribute to Jim's knack for finding family wherever he went and celebrating the ties that bind in all their myriad shapes and sizes.  Happy Holidays from Team Marshall, it has been a truly great year and we look forward to many more to come!
Thanksgiving 1969 With the Cash Family
Anybody who ever met Jim in his later years knows that he had a real love-hate relationship with this time of year.  Any holiday or birthday, especially Thanksgiving or Christmas, just seemed to depress him, and that depression would then send him into one of his manic spirals, full of misanthropy and chaos. Sadly, he started to use the holidays as an excuse to "get weird" and tune into the darker side of his nature, but that wasn't always the case. Nowhere is the lighter, hope-filled side of Jim more evident than in his work documenting the Cash family, who embraced him, allowed him into their lives and their Hendersonville, Tenn. home just like he was one of the family. And, the intimate, powerful portraits that emerged – many taken during the Carter Family Thanksgiving of 1969 – are the legacy of that trust. As always when diving into Jim's proofs, you never know what or who you'll find and the connections and collaborations can be truly intriguing.  For example, in these Thanksgiving '69 shots you see singer-songwriting renaissance men, Shel Silverstein and Kris Kristofferson, along with Johnny's beloved parents Ray & Carrie Cash, his adored wife June Carter Cash, and the rest of the extended Carter clan.
Click here to check out the original blog and its amazing candid shots and remember to hug your family, and family of choice, just a little bit tighter during this holiday season.