Submitted by

m3jimphoto

on Thu, 02/14/2013 - 11:10pm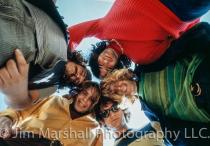 What better way to celebrate February 14, the "official" day of love (in the U.S. anyway), than to focus on some of what we adore most here at Team Marshall: the lovely surprises and serendipitous gifts that await us when exploring Jim Marshall's magnificent and still quite-mysterious photo archive. Jay Blakesberg, our archivist and head of North American licensing, discovered some beauties the other day when he unearthed the accompanying color slides of a shoot Jim did with the Grateful Dead in 1967.  The shot of the Dead (clockwise from left: Pigpen, Jerry Garcia, Phil Lesh, Bill Kreutzmann, and Bob Weir) from underneath with Jim laying on the ground is rare enough, but the really amazing finds were the two other shots taken of Jim and the Dead while in the midst of the shoot.
Who was it that took these shots whose identity is now (sadly) lost to the annals of time? An assistant? A friend of the Dead's who knew his or her way around a Leica?  A passerby who Jim trusted enough to snap off a couple of shots correctly exposed and mostly in focus? I know, that last one's highly doubtful given how protective Jim was about those Leicas, right? When Jay posted these onto the JMPLLC Facebook page recently there was quite a response and so I thought it only fair to re-post them here with Jay's text from the Facebook wall as captions, for those of you in the blogosphere who manage (somehow) to resist Facebook's siren song.  It's interesting to note that in a number of different interviews and scenarios Jim mis-remembered that this shoot with the Dead happened in Golden Gate Park.
Here's an example of Jim's faulty recall: "This picture was originally shot in Golden Gate Park in San Francisco in 1967.  Jim Marshall said of them, 'We were going around in Golden Gate Park, I got a shot with a 21mm lens, then I laid down and did this one looking up at them and the sky.' " And yet as Jay and a multitude of other JMPLLC Facebook fans point out, the shots with Jim in them clearly show that the shoot was in the Fillmore.  Interestingly, Jim was laying down on what is now the site of today's Boom Boom Room. To add some multimedia flavor to today's post, here's a video of the Dead at an Acid Test in 1967 to give you a sonic idea of what the band was about at the time Jim took these shots.  And kudos to my favorite Dead fan, Dan Sullivan, for sourcing this link.
Somebody to Emulate
I thought it would be neat to re-run a classic Jim Marshall shot of the Jefferson Airplane also taken in 1967 that is more than a little reminiscent of the Dead set up that leads off this blog.  I first ran this image of the Airplane in my blog "Somebody to Love." See what I mean about connections in Jim's work and how his passion propelled him, even if it meant rolling around in a dirt lot in the Fillmore?  Jim always pointed out that we are bound together by our shared experiences and he never lost the ability to be truly grateful over the small serendipities and coincidences of life.  It turns out they are all around us … if we just know how (and where) to look.